Organisation
The Belgian Blue Herd-Book is a national independent society acting for the general interests of the BB breeders and entrusted with the selection and the promotion of the breed.

The Belgian Blue Herd-book was officially set up in 1973 and succeeds the Herd-Book of the "Moyenne et Haute Belgique" breed. It is managed by a Council of 16 directors, each of them being breeders and elected by their colleagues.

The number of Belgian Blue active breeders is of the order of 2000. For a national herd of 540.000 BB cows, there are 90.000 cows and 2.500 bulls registered in the Herd-Book.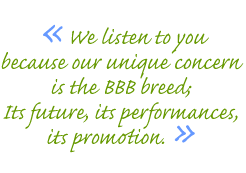 Tariffs
Annual subsciption per member......... 17,07 €

Subscription per animal ..................... 4.83 €
(National Pedigree)

International Pedigree :

living animal .......................... 26.30 €
embryo.................................. 12.89 €