Responsabilities of the Belgian Blue herd-Book
1. The promotion of the breed
More than 15 shows in Belgium and abroad,
Actions in Belgium and abroad

towards the press
towards the farmers
towards the leaders of the breeding world
towards the breeders associations
towards the consumers
towards the schools
towards the medical sector
towards the research,

Organization of international meetings,
2 websites (BB Herd-Book & Belgian Blue International (BBI)),
Belgian Blue competitions in many countries,
Organization of the National show, collaboration on the organization of the Libramont & Tournai shows.
Specialized publications,
Carcass competitions,
Following of specific labels,
Translations (Fr., Ang., Nl., Esp.),
(Co) – management of foreign BB herd-Book,
Management of the Belgian Blue International society (B.B.I.),
Official inspections of the AI sires,
Administrative information of the breeders.
2. The selection of the breed
BB genetic evaluations,
Monitoring of the market trends,
Monitoring of the genetic trends (weight, height, price, …),
Definition of the selection goals,
Conception, technical and scientific support of the testing programs

Performance-Test
Progeny-Test
Linear score

Taking part in specialized meeting,
Dialogue with the research sector,
Improvement of testing programs,
Training of Belgian and foreign judges,
Nomination of national & international judges,
Following of the official inspections.
3. The management of the breed
Registration criteria,
National & International pedigrees,
Technical documents and certificates,
Action against the use of prohibited substances,
Official publications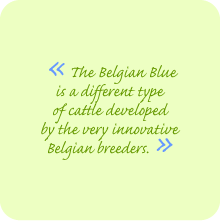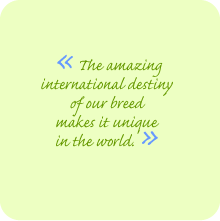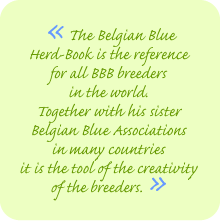 Partners
l'Association Wallonne de l'élevage
Belgian Blue Group
BBCI
FABROCA
Génétique Avenir – BELGIMEX
S.V.C. Oost-West
K.I. Samen
de SWAEF Peter
British Blue Cattle Society
American Belgian Blue Breeders
UPRA Blanc-Bleu – France
Belgisk Blåhvidt Kvæg i Danmark
Belgian Blue Cattle Breeding Society of Ireland
Australian Belgian Blue Cattle Society
New-Zealand Belgian Blue Beef Breeders
Associação Brasileira de Criadores de B.B.B.
Canadian Belgian Blue Association
Hungarian Association of Belgian White-Blue Cattle Breeders
Belgisch Witblauw Rundveestamboek Nederland
Asociacion de Ganaderos de Raza Selecta Blanc-Bleu Belga – España
Japan Association of Belgian Blue
…